What size gloves do I need?
The table contains the following sizes: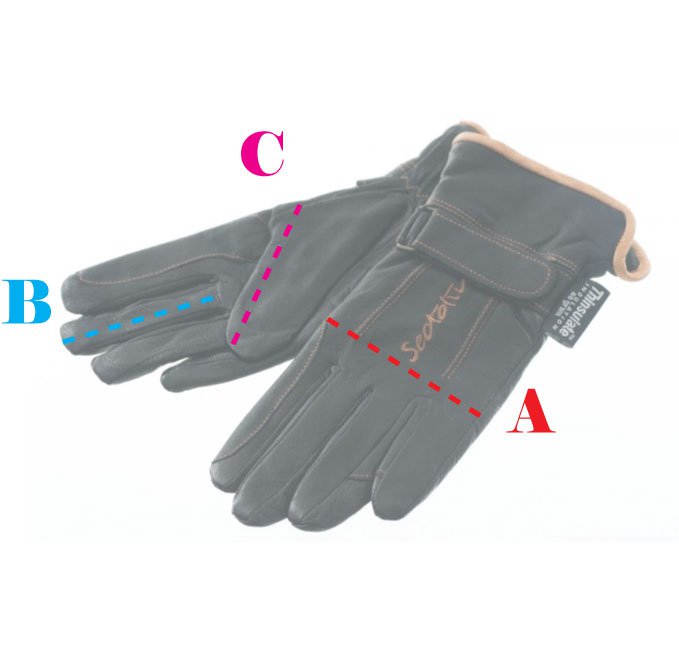 A) Circumference knuckles: the circumference of the hand at the knuckles.
B) Middle finger length: the length of the middle finger to the knuckle.
C) Length inside thumb: the length is measured from the top of the thumb to the base of the index finger.
| | | | | | | | | |
| --- | --- | --- | --- | --- | --- | --- | --- | --- |
| Alaska Thermo Gloves | sz.12 (child) | sz. XXS | sz. XS | sz. S | sz. M | sz. L | sz. XL | sz. XXL |
| Circumference knuckles (cm) | 16 | 16 | 17 | 18 | 19 | 20 | 21 | 22 |
| Middle finger length (cm) | 7,5 | 7,5 | 8 | 8,5 | 8,5 | 9 | 9,5 | 9,5 |
| Length inside thumb (cm) | 6 | 6,5 | 7 | 7,5 | 7,5 | 7,5 | 7,5 | 8 |
| | | | | | | | | |
| --- | --- | --- | --- | --- | --- | --- | --- | --- |
| Harry's Horse Gloves | sz. 7.5 | sz. 8 | sz. 8.5 | sz. 9 | sz. 9.5 | sz. 10 | | |
| Circumference knuckles (cm) | 18 | 19 | 19 | 20 | 21 | 22 | | |
| Middle finger length (cm) | 9 | 9 | 9,5 | 10 | 10,5 | 11 | | |
| Length inside thumb (cm) | 7 | 7,5 | 7,5 | 8 | 8,5 | 9 | | |